I feel so lucky to be able to review yet another piece of work by Tia Fanning. I was able to review Rules of Darkness (loved it), and Ticket Me More was just as fabulous! Enjoy the review, and be sure to check this one out!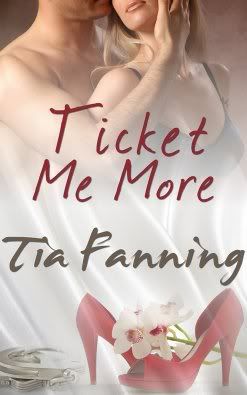 Ticket Me More
Tia Fanning
Resplendence Publishing, LLC
October 2007
E-book
53 Pages
Erotic romance

As Melanie Darling is speeding home from work one night, she gets pulled over. She's never been pulled over before. So, she decides she'll try to flirt her way out of it. Lucky for her, she gets off with a warning from Officer Michael Johnson. Melanie's always been the good girl. She's never been drunk, never smoked, never done drugs, and she's never even had sex. She actually feels good about getting pulled over. Atleast it added some spice to her life.

So, Melanie decides she needs a little bit more spice. She's going to get her man: Officer Johnson. The next night, Melanie flies by Officer Johnson at 85, and much to her satisfaction, gets pulled over. Melanie is dressed to impress, and she begins to pull out ever trick in the book. Just as things are about to heat up between them, on the side of the road, Michael backs out. However, the new Melanie isn't going to take rejection. She'll continue pulling out her bag of tricks until she has her man, because Michael wants her too.

Ticket Me More definitely had me laughing before I got to the second page. Melanie is a great character, and Michael just fits with her. Their romance is hot and spicy, and Melanie getting ticket after ticket just to grab his eye is comical. Tia Fanning has written a snappy and fun read, with a thoroughly developed plot. Ticket Me More is a great novella, and I thoroughly recommend giving this one a read. And as always, novellas are a great way to get to know an author, and Tia Fanning is amazing!

-Denise Kivett
Rogues and Romance

Heat Rating: *4- Cupid's Aphrodisiac



*No Violence*

Official Blurb:
Melanie Rose Darling is a very unhappy florist.

Hailed by the bridal flower world as an artistic genius, Meli works long nights making bouquets for women lucky enough to find love, while she herself lives a life of solitude. She yearns to share her heart and body with someone other than Bob, her Battery Operated Boyfriend, but acute shyness keeps her from engaging the "living" world.

However, Meli's quiet and predictable existence takes an unexpected turn when she is pulled over and ticketed by the most gorgeous cop she has ever encountered… Officer Michael Johnson. Though he does not seem to notice her as anything more than a traffic violation, Meli makes plans to overcome her timid nature and seize the police officer's attention… using any speed necessary.







If Ticket Me More sounds like your cup of tea, don't forget to check out my review for Rules of Darkness by Tia Fanning!


Happy Reading!
*Dee*
R&R