Wicked Pleasures is wicked indeed! I have read historical erotica before, but nothing quite like this! I hope you enjoy the review, and grab a copy of Wicked Pleasures!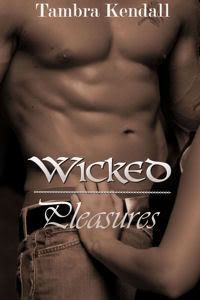 Tambra Kendall
Wicked Pleasures
Red Rose Publishing
September 20, 2007
978-1-60435-035-7
30 pages
Erotic historical romance

Texas, 1880:
Honey is just like her Grandmother: wild and wicked. Those two traits make it a perfectly good reason for her to get married sooner, rather than later. Not to mention, when her father gets back into town, he's kicking her out. So, it stands to reason, that the man, Brock, who is just as wild as Honey, and loves her dearly, is just the man for her. He's also building a house, which is icing on the cake for Honey. Since they have had the hots for each other for awhile now, they are more than happy to marry one another. Brock has been dreaming of Honey, and what she would be like as a lover, and Honey's grandmother has told her everything she could ever know about sex and all of its pleasures.

But Brock has a bit more on his mind than just Honey. His cousin Andrew is a slime ball, and has forged a will, which will take away ALL of Brock's (and soon to be Honey's) possessions. It's up to Brock to find the original will, which is hidden somewhere, before the deadline of one week is up, or Brock and Honey will be at a complete and total loss…

However, despite the love and deception, the most intriguing part will be the meaning behind: Wicked Pleasures. For, Honey's Grandmother was more wicked and wild than anyone could have ever imagined, and what she has left to Honey, to open on her wedding night is very wicked indeed. But, what is inside her Grandmother's box could send Honey straight to jail …

Wicked Pleasure by Tambra Kendall has a fantastic mix of erotica and historical elements, which tie in nicely with each other. Brock and Honey have a great relationship, and although Wicked Pleasures takes place in 1880, you'll find them both to be realistic and funny! Even though Wicked Pleasures is a novella, you will find that the storyline is not rushed in the least bit, but rather fluid and very well wrapped-up in the end. This is a fantastic and quick read for anyone, and especially perfect for readers who love the erotic historical genre! Tambra Kendall really has a way with both elements!

*Denise*
Rogues and Romance*

Heat Rating: *5- Cupid's Whole Quiver!






Violence Rating:

*1- Suction Cup Arrow



Official Blurb:

Honey Jordan is in trouble. Her Pa is giving her one week to find another place to live. Her fiancé has not finished their house. She discovered in telling her best friend about Granny Cordella's sexual legacy, a box of wicked pleasure, she now might be a criminal.

Can she escape the clutches of the law and marry Brock?

Can she find the topaz treasure,' The Jewel of the Nile?'

Brock Ryan is in trouble. He's about to lose his house and land because the will his Pawpaw left him is missing. His fiancée, Honey Jordan is in possession of certain sexual illegal items. His brother-in-law congratulates him and the Sheriff is threatening to haul Honey in for breaking the law.

Can Brock keep his fiancée out of jail and save his land?

Buy Wicked Pleasures from Red Rose Publishing!

Visit Tambra Kendall on Myspace!

Check out Tambra's Website


Happy Reading!
*Dee*
R&R