Tia Fanning has done a fantastic job with Rules of Darkness! There's just the right amount of romance, darkness, and magic to creat a perfect story.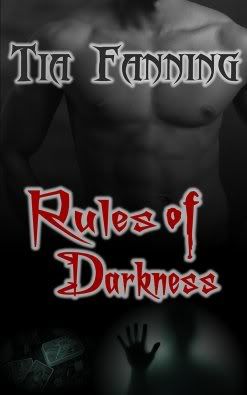 Rules of Darkness
Tia Fanning
Resplendence Publishing, LLC
2007
E-book
93 Pages
Paranormal Romance - magic

Katia has both rules and signs that guide her life, and in order to keep herself alive, she must follow the rules. The first sign was the brutal crime upon Katia's mother that caused her conception. The second sign that followed was when Katia's mother named her, shortly after birth, and then passed away. The third sign was when Katia's eyes changed from blue to hazel, and with the third sign came the first rule: of those who flock to Katia, only those who live may she lay her hands upon them, but she must never touch the dead.

Then, Katia turns 16, and she loses her great-grandmother, and flees from their village. When she fled, she left the ways of the old, and moved into the modern world, what we know of. It hasn't been easy though. The "lost," as they are so called, still flock to Katia, and it was when she fled that she broke one of her 12 rules.

As she was driving home, one day after work, she passed a graveyard, and glanced at it, for far too long. Thus, breaking one of said rules, "Never glance into a graveyard as you pass it." When rules are broken, there are consequences. Now, this boy, a ghost, has attached himself to Katia, because he just knew that she could see him. He's just a boy to Katia, but because he's a ghost, she CAN'T help him. If he accidentally touches her, she will lose her soul…

As Katia tries to explain to the boy that she can't help, his rage fuels his power and more rules are broken. Katia has to get out of her house, and just as she thinks she is about to lose everything, she sees Stoyan, and he banishes the boy…

Stoyan was the love Katia left behind when she fled her village all those years ago. There's a lot more left unsaid between Katia and Stoyan because their history and future both run far deeper than they could ever imagine. Katia is a healer of the lost, and Stoyan is meant to be her protector. Because of that, they are destined to be together, but when Katia needed Stoyan the most, he wasn't there, and she sure doesn't need him now. What Katia soon finds out though, is that she does need Stoyan. She learns that she carries the scent of the shifters, and those inflicted will try to use her as a mate. Now, everything will change in Katia…

Tia Fanning has written an exceptional novella. The relationship between Katia and Stoyan is realistically developed, and the rest of the characters bring much to the table. Fanning has fully developed Rules of Darkness, and the storyline is absolutely perfect. You'll be laughing, and crying, but in the end, you'll find yourself loving the story, and extremely happy with how things turned out. Rules of Darkness is a fantastic story, and Tia Fanning is an amazing author.

Rules of Darkness is a Rogues and Romance Must-Read!
-Denise Kivett
Rogues and Romance



Heat Rating: *4- Cupid's Aphrodisiac



Violence Rating: *4- Fire Arrow



Official Blurb:
One special gift...Twelve rules to follow...There are some rules that should never be broken.

They tell me that I am special, that my ability to heal mental illness is a "gift" that should be treasured and appreciated. As far as I'm concerned, I'm not gifted...I'm cursed. Nothing in this life is free, not even gifts. There is always a price to be paid somewhere, somehow.

My healing gift came with twelve Rules of Darkness, rules that I must follow at all times, until the day I die. The rules are ingrained in who I am. They dictate how I live my life when I am awake, and they haunt me when I'm asleep. Don't look into a graveyard, Katia. Don't touch the dead, Katia. Never seek out the lost, Katia...It's enough to drive a person mad.

And perhaps that's where I find myself now. A victim of a disease I can cure in others, but not in myself. It's madness to break the rules, and yet, I don't care anymore. I'm tired of living my life this way. I'm tired of the rules. I won't do it any more, and if that means I suffer the consequences, then so be it







Happy Reading and Happy New Year!
*Dee*
R&R