I have been absolutely swamped between school and work, and the occasional babysitting babysitting, that I haven't had much time for reviews! So, tonight, about 2 hours ago, I decided to sit down and do a review. How ambitious of me! :-) Anyways, I had, had To Summon a Demon for a whole month, now. So, I decided that, that would be the one. You can only imagine how excited I was to see it was a mere 50 pages, but don't let that fool you! I've you've been disappointed with ebooks in the past, and felt as if the storyline wasn't fully developed, this one will change your mind. I enjoyed to Summon a Demon, and you'll like it even more if Demon's are "up your alley."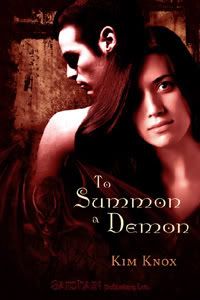 Title:
To Summon a Demon
Author:
Kim Knox
Publisher:
Samhain Publishing, Ltd
ISBN:
978-1-59998-550-0
Released:
August 21, 2007
Format:Length:
50 pages
Genre:
Paranormal Romance (demons/sorcery)
To Summon a Demon starts off with a bang! Ineaus is in the woods, just awakening when he is attacked by Harpies, small winged creatures sent by a demon to kill him. It's happened before, but Ineuaus fears that this time he will not be able to win, when suddenly, he's rescued by Conde, and emotions run hot and heavy between the two. Long ago, Sorcerers bound Demons to the land in which they reside, but with the help of Conde the demons got away and with The Crystal. Without The Crystal, the sorcerers are losing their power, and it's up to Ineaus to get it back, but with Conde as the supposed summoner, who knows what will happen and what answers will be uncovered…
If you enjoy demons and sorcery with a splash of romance, you'll love Knox's To Summon a Demon! As an ebook, and therefore short, Knox does a fantastic job of grabbing the reader's attention from the very beginning. Not once, did I feel as if I was being rushed while reading; the story as well as the characters were both very well developed and thorough. Even as an otherworldly piece of work, you can relate to the characters, what they are going through, and how they are feeling. You'll want to read this in one sitting, and what's so great is that you can!
--Denise Kivett
PNR Reviews
Here you can find an excerpt
Buy To Summon a Demon from My Bookstore and More
Visit Kim Knox's Blog!
Visit Kim Knox's Myspace!
Happy reading everyone, and you WON'T be disappointed reading To Summon a Demon, I promise!
Until the next review...(lol, don't ask)
Dee
R&R