Wow! What a great read! I actually anticipated that this review would take me a few days, because it's a bit longer than what I'm used it. However, I flew through The Healer's Garden! Nina Pierce is on my list of author's I have got to find out more about!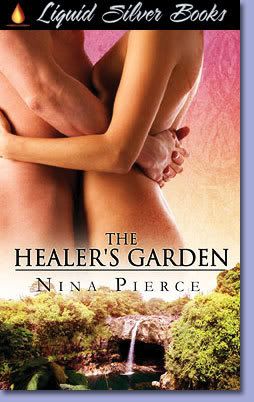 The Healer's Garden
Nina Pierce
Liquid Silver Books
2007
978-1-59578-411-7
E-book
158 Pages
Futuristic Erotica

In 2172, there are no same-sex couples. The government has taken the necessary precautions in order to keep the population under control. Females dominate a society where men are enslaved.

Step forward in time with Jahara, who has what seems to be a perfect life. She works at a major healing facility, she is descended from a Dame in a position of power, and she has the perfect girlfriend, Merenith. Well, everything was almost perfect, until the day the official government disk arrived. She'll have to leave everything she knows, her job, friends, family, home, for 2 years to fulfill her obligation: to birth two healthy children.

Merenith's number one fear of Jahara leaving her has to do with the rumor of the tribes of men and women who live outside the law. But Jahara is off to the Garden of Serenity, where she meets Brenimyn, an adult male breeder. Yet, Brenimyn is tired of being simply a woman's tool, and that too, will change when he meets Jahara…

Nina Pierce grabs your attention with The Healer's Garden from the very first page, and holds on to it throughout the entire story. The characters are amazingly well crafted with realistic qualities despite being futuristic. The relationships are relatable and true. Nina Pierce is an excellent writer, and you'll find yourself pouring through The Healer's Garden and wanting more from Nina Pierce.

-Denise Kivett
Rogues and Romance

Heat Rating: *4- Cupid's Aphrodisiac



Violence Rating: *0- No Violence

Official Blurb:
In a female dominated society, mating with a male, even if it is to save the human race, is a distasteful task and one Healer Jahara Hriznek has successfully avoided--but time and excuses have both run out. Adhering to the outdated procreation law of the twenty-first century, she takes up residence at the government breeding facility known as the Garden of Serenity.

Brenimyn is a gifted breeding instructor at the Garden. Forced to copulate with all females who request his services, he is tired of the sexist government enslaving men. He lives to find the woman who will fulfill his destiny and help him bring about social equality.

Can Brenimyn and Jahara learn to trust each other and their hearts and allow love to bring about a new world order in The Healer's Garden?




Happy Reading!

*Dee*