Yet, another great work of fiction by Melinda Barron. Enjoy the review for The Pirate Wench. I hope this review entices you, the reader, as much as the story did me!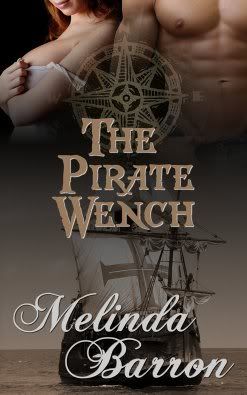 The Pirate Wench
Melinda Barron
Resplendence Publishing, LLC.
November 2007
eBook
116 pages

Melani is at Ahoy, Matey, a theme park, as a guest, maid of honor, undercover employee, and author. The park has been opened for ten years, thus far, and weddings have recently been added to attract even more guests. Melani's best friend, Ellie will be the first to be married at the park—to the park's owner: The Pirate King. However, Melani is about to become a pirate wench, and she's not so thrilled about that…

Whew! And the outfit she has to wear! Melani is beyond sexy, but she, personally just isn't into those little sexy pirate outfits. That is until she meets Royce, a fellow pirate. Melani the writer doesn't stare at sexy, and all too manly men, but what about Melani the pirate wench? Melani can definitely see why Ellie thought that Florida and Ahoy, Matey were so enticing…

Then, Royce is given the opportunity to take Melani to dinner, and he jumps at the chance. Dinner of course could lead to dessert, but just how hot and heavy will this pirate and pirate wench get?

A pirate romance! What could be more exciting? All of these characters are absolutely fascinating. The meld together so well, and it's very easy to relate to where each character comes from. Melinda Barron has proven that she is an absolutely fantastic writer. So, go grab yourself a copy of The Pirate Wench, it won't disappoint!

-Denise Kivett
Rogues and Romance



*Heat Rating:

3- Cupid's Ardor Arrow




*Violence Rating: 0-No Violence

Official Blurb:
Can a staid, by-the-book journalist find love with a modern day pirate?

Melani Canton is about to find out. When she travels to Florida to be maid-of-honor at her best friend's wedding, she takes on an extra duty: taking a good look at Ahoy, Matey, the pirate- themed park where the wedding is set to take place, and writing a story that will attract visitors. While there, she meets handsome swashbuckler, Royce McKenna. Royce is a former lawyer who has given up the courtroom for life on the high seas, amusement park style.

McKenna is the co-owner of Ahoy, Matey. When Royce sees Melani he knows that he has to have her. Melani is not, however, the type to sleep with a man she has just met.

So Royce does what any good pirate would do. He "abducts" Melani and gives her a wild night of passion on his pirate ship, where Melani discovers that being Royce's pirate wench isn't such a bad thing. But when the time comes for her to go back to her stoic life, will Royce let her sail off into the sunset? Or will he find a way to keep his Pirate Wench?




Happy Reading!
*Dee*