I had the pleasure of reading, reviewing, (and loving) Sandra Cox's book Boji Stones before reading The Crystal, her first book. But now that I've read The Crystal, I must say I am very impressed that both the story and writing were not only just as good as her second book, but as wonderful as many a seasoned writers.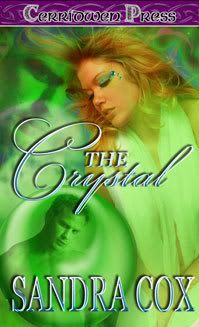 The Crystal
Sandra Cox
Cerridwen Press
Available Now
249 pages
Paranormal Romance

Gabriella Bell is a spunky policeman's daughter and small-time reporter with dreams of being a serious journalist. But her life changes when she enters and antique shop and sees the face of a handsome man in the center of a gazing globe. She can't resist purchasing a crystal ball, unaware that it had been stolen from the aunt of Christopher Saint, a handsome member of elite society, and the man whose face appears to her in the crystal ball.

Christopher Saint lives a dual life- one of a wealthy gentleman, and the other as an infamous cat burglar known only as The Tiger. He has little trouble tracking down his aunt's stolen property, but when he meets the new owner of the crystal ball, he gets more than he bargained for. Because with the pull Gabby feels to the crystal ball- and to Christopher Saint- she refuses to give it up without a fight. But when a new enemy emerges and threatens not only the crystal but their lives as well, Gabby and Christopher must band together or risk losing much more than just a crystal ball.

The Crystal is the first published book by Sandra Cox, an author who never ceases to amaze me with her flawless infusion of paranormal and suspense elements with contemporary romance. The larger than life characters in this story create a lot of the story on their own, but there's no lack of action and plot, that's for sure! The mystery of the crystal ball, the suspense of unraveling the secrets of who is after it and why, and the explosive relationship between Christopher and Gabby are enough to keep you on the edge of your seat. Ms. Cox creates rich supporting characters, from Christopher's eccentric fae aunt to Gabby's overprotective father, they refuse to fade into the background. The Crystal's twists, turns, and sarcastic banter between the two main characters make for an entertaining, lively read. I recommend Sandra Cox to anyone who likes a little fun (and a lot of heart!) with their romance.

-Mandy Briggs
Rogues and Romance

Heat Rating: *2- Cupid's Passion Arrow



Violence Rating: *3- Steel Arrow

Official Blurb:
"Only the chosen ones or their mates will ever be able to see the magic contained in the Globe."

Caught in a downpour, Gabriella Bell enters a trendy little shop and discovers a crystal ball in which she sees the face of a hard-eyed stranger. Drawn by a force she doesn't understand she buys the crystal, unaware she is purchasing stolen property that belongs to the aunt of a premiere cat burglar known to polite society as Christopher Saint and to the underworld as The Tiger.

She soon discovers that not only does the handsome, hard-eyed stranger want the mysterious globe but so does a beautiful ruthless jewel thief who will stop at nothing, including murder, to possess Christopher and the crystal ball…and Gabriella is standing in her way. Gabriella discovers the road to true love isn't just rocky, it's downright dangerous.









Happy Reading!
Mandy