Lisa Renee Jones has created a wonderful new paranormal series called

The Knights of White

, with a fascinating group of heroes. If you haven't tried out Harlequin's paranormal line, Silhouette Nocturne, this is the perfect book to introduce you to the line. But whether you have or haven't read Nocturne books before,

The Beast Within

is a book you will love, and

The Knights of White

is a series you can't get enough of!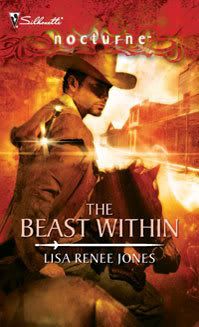 The Beast Within


Lisa Renee Jones


Silhouette Nocturne
978-0-373-61775-3
Print and ebook
276 Pages
Paranormal Romance

In the battle between good and evil, the Knights of White struggle with the Darkland Beasts for all of humanity. The leader of the Knights is Jag, a man tortured by both the beast he feels raging inside of him, and by the dreams. Since the day he was made immortal after the Darkland Beasts took his life and that of his beloved wife's, he has felt nothing but the need for vengeance. But the dreams bring new feelings, new temptations in the form of a beautiful woman, who in these dreams causes him to lose control over the beast in his soul he fights to repress.

Karen is a mortal who has been searching her whole life. For what she has no idea, but her need to find it becomes more apparent to her each day. When she is unknowingly manipulated by an evil being, she finds herself led to the Knights of White, and to Jag. She feels a strange connection to him, and though she doesn't know why, he feels strangely familiar, and oddly like the missing piece she's been awaiting.

When Jag meets Karen, he instantly recognizes her as the gorgeous temptress from his dreams. But his suspicions of her motives and his fear of losing control cause him to push her away from him. But when the cause of the dreams becomes clear, and their destinies are revealed, it's not a matter of Jag trusting Karen any more; it's a matter of trusting himself.



The Beast Within

is an exciting and emotional story of soul mates, accepting who you are, and trusting in the ones you love. Lisa Renee Jones has created not only a marvelous, suspenseful story, but an assembly of characters that are completely unforgettable! The Knights are sure to be some of your all-time favorite heroes, and you become attached to each one in just the first book! The connection between Jag and Karen is deep and powerful, and the reader is left riveted by their love story. Join the hero and heroine, along with the other Knights you will come to know and love, in their fight against pure evil, the Darkland Beasts. Lisa Renee Jones'

Knights of White

series is a paranormal essential that will sweep romance readers off their feet!



-Mandy




Rogues and Romance






Heat Rating

: *3- Cupid's Ardor Arrow






Violence Rating:

*3- Steel Arrow






Official Blurb (from website):


A world where angels and demons collide…Where knives, guns, and weapons might cause damagebut only good can defeat evil.
Known only as 'Jag', he leads an army, the Knights of White, in the battle of good over evil, fighting the soulless Darkland Beasts who took his wife and his life. Saved by an immortal of mystical powers, he, too, is now immortal, destined to live with the vengeance he feels in his heart. He is torn between the beast stirring his soul and the goodness his mentor presses him to embrace.
But soon the true origins of the war being fought will become clear. For this is a battle of angels; Raphael, a protector of humanity, against, Cain, the fallen one, from the Underworld.
Cain will stop at nothing to take down his adversary, even bringing Jag's wife back to life in the form of forbidden temptation. His plan…to destroy the Knights and conquer good with evil.
Now, Jag will find the one he lost, and their love will either lead him to the light or the ultimate darkness.



Official Blurb (from back of book):


Only Passion Can Soothe the Beast Within…
Known only as Jag, he leads the Knights of White against the soulless Darkland Beasts who took his wife and his life. Jag is immortal, destined to live with the vengeance he feels in his heart. And the dreams that haunt his soul. Sensual dreams of a woman. Dreams that threaten to unleash the beast within…
Karen Gibson is an innocent mortal, unwittingly thrown into this millenia-old battle, and, unwillingly, under Jag's protection. She and Jag are about to discover that they have met before - in the dreams they share.
Neither trusts the other. Neither can survive alone. The secret of those erotic dreams may be all that saves them – if Jag can only accept it. At risk is Karen's life. And Jag's immortal soul…
Knights of White: These demon hunters fight for all that is good…


Buy the Paperback from eHarlequin.com Only $4.20 (plus s&h)

Buy the Paperback from Amazon New- $5.25 (free s&h w/ $25 purchase)

Buy the eBook from eHarlequin.com Only $3.33! (no s&h)

Visit the Knights of White Website!

Visit Lisa Renee Jones' Website!

Check out Lisa Renee Jones' Blog!


Happy Reading!
Mandy