I have been very anxious about posting this review, because this book was so good, I was afraid I wouldn't do it justice. Not only is the book wonderful, but the author, Sasha Vivelo, is one of the nicest people ever. Keep a lookout for her interview, coming in just a few days!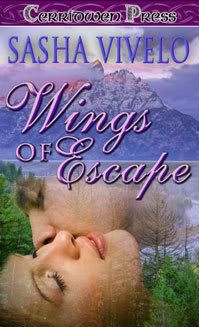 Wings of Escape
Sasha Vivelo
Cerridwen Press
978-1419909412
eBook
131 pages
Romantic Suspense

Angela has been suffering the past nine years, nine years since her beloved sister Rachel went missing. Nine years with nothing to go on, until now; Angela has found what could be a clue to Rachel's disappearance, and she is determined to find the truth. Angela knows she isn't the same scared girl she was at the time her sister went missing, and there is one thing she knows she must find out before investigating the clue. The possibility that Cor, Rachel's husband, was the cause of her disappearance remains, and must be laid to rest. But when Angela confronts Cor after almost a decade, she arouses suspicions in him that Rachel is still alive, and creates a danger she could have never imagined.

Cor's reaction to her inquiry causes Angela to have even more hope that Rachel is still alive, and she starts her search. When she learns that her sister's disappearance is connected to the Wild Goose, a man that helps people disappear when their lives are in danger, she starts to track down this ghost of a man.

But the Wild Goose, John, knows how close she is to discovering his identity, thus endangering their lives and the lives of everyone that he's helped, so he approaches her before she gets any farther. John tries to convince Angela of the danger that she is posing to many innocent people, especially her sister, but the damage has already been done.

Now they are on the run from someone whose secrets are compromised by Rachel's very existence, someone that is as determined to find Rachel as Angela is. The more time John and Angela spend together escaping their pursuers, the more John feels himself drawn to this woman who seems to know him better than he knows himself. Though John refuses to endanger Rachel by giving up her location to Angela, Angela still finds herself drawn to this enigma of a man, a "ghost" who feels more real to her than anyone ever has. How will Angela's search end, and will the end of her quest mean the end of all of their lives?

Wings of Escape will take you on a journey of intense emotions, beautiful settings, and richly developed characters. Sasha Vivelo will astound you with her ability to use words as a medium to paint beautiful images of the settings, taking you from the Galveston Island beach to the mountains of New Mexico. The characters were rich and multi-faceted, and feel as real as if you could reach out and touch them. John, the Wild Goose, is a man of secrets and mystery, but his pain and well-guarded vulnerabilities make him endearing as well as awe-inspiring. Angela is a strong and determined woman, and the sadness over the loss of her sister and the hope of finding her is tangible. The author does a phenomenal job taking the reader through a gambit of emotions throughout the story, just as the characters do. This is the first book I have read in years that was so beautiful, I had tears streaming down my face at the end. Sasha Vivelo has created a magnificent story of suspense, pain, emotional connection, and never giving up on the ones you love. Wings of Escape will definitely keep you on your toes, never knowing which twist the story will take, but loving each turn.
-Mandy Briggs
Rogues and Romance

Wings of Escape is a Rogues and Romance Must-Read! This book deserves special recognition for an outstanding story, characters, and writing.






*Heat Rating:

2- Cupid's Passion Arrow





*Violence Rating:

2- Blunt-Tipped Arrow





Official Blurb:


Wings of Escape By Sasha Vivelo

Angela Grayson has spent years searching in vain for her missing sister Rachel. What Angela doesn't know is that her search has reawakened a deadly threat in the form of Rachel's husband, Cor, whose criminal past once endangered Rachel's life.

When Angela learns that her sister's disappearance was aided by the unseen hand of a mysterious man known only as the Wild Goose, she renews her search efforts. John Shayne, the man dubbed the Wild Goose, has mastered the dangerous art of making innocent fugitives disappear to save their lives. As Angela is about to discover the Wild Goose's identity, he tracks her down first, determined to stop her from finding her sister and putting lives on the line. But he's too late. He and Angela are already hunted and in peril.

Even as they run for their lives, John can't resist the touch of the only woman in the world who sees him for who he truly is. But John stands between Angela and the sister she misses so desperately…and Angela threatens John's deepest secrets.

Buy Wings of Escape
Visit Sasha Vivelo's Website
You HAVE to read this book, you will not be sorry!
Till next time!!!
Mandy