Here is Part 2 of D. Renee Bagby's Guest Blog! I hope everyone has enjoyed having her here, as I know Mandy and I have! Thanks so much for guest blogging with us D. Renee Bagby!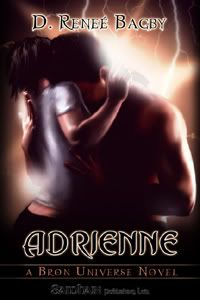 Little Known Facts about Adrienne

These facts fall into three categories—the way it was, deleted scenes and stuff I couldn't mention in the book but wanted known.

The Way It Was
Anyone who's read any of my past interviews knows that it took me about five years to get to the version of Adrienne that's out now. I had a few unfinished WIPs (works-in-progress) and finished first draft written but didn't like how they turned out and reworked the story idea. I didn't like the rework, which was just an expanded outline, so I scraped that and restarted from the beginning. Here's what got scraped:

- Adrienne's name used to be Arlean (pronounced Arlene) Winster, Malik was Malcolm, Chandra used to be Charyl, Hollace was Halor, Oringo was Oryal—and he was Halor's second-in-command, not his son—and Travers was Traton. Did I do good changing those names or what? Man it's embarrassing to admit, though. The only character who never went through a name change was Feyr. That was his name from the beginning and I never had the inclination to change it.

- Adrienne was originally a high school senior. Yup. I had her as the loner/outcast type that kept to herself but made superb grades. Her grades made her a teacher favorite thus her outcast status.

- Josh—the antagonist at the beginning of the book, in case you've forgotten him—was also a senior. But he was grunge instead of prep. Still a rich kid but Adrienne caught him dealing in the bathrooms instead of plagiarizing. Like the book, Josh was expelled for possession and decided to take his anger out on Adrienne during her lunch period, which means Malik's intervention—the original intervention—took place around noon on the middle of a high school campus full of kids. Yeah, that got scraped quick, fast and in a hurry.

- Originally, before I conceived of my Multiverse, all people who hopped from Earth to Bron were automatically powerful mages. It came from being from Earth. That got scraped when I decided to string my stories together through the Multiverse. But, I had to conceive of a reason for Adrienne to be kidnapped. Well… that gets mentioned later in the book—thus I won't give it away in case someone hasn't read it yet—and explained fully in a story I have planned for later down the road.

- Hollace was the original antagonist. In the first, first version, Malik (Malcolm) brought Adrienne across the dimensional threshold but the portal went screwy and she landed in Hollace's forest. He found her and took her home without knowing who she was. In the second rework, he captured Adrienne and was going to marry her to Oringo so Malik couldn't have her, but Malik pulled a switch and married her disguised as Oringo.

- Malik was supposed to be evil. I kid you not. I wanted him to be evil, but he wasn't going for it. So, I let him be spoiled instead—the way he wanted. To make up for it, I made an evil hero that will show up in my dragon books.




Check out our reviews for Adrienne!

Happy Reading!
*Dee*
R&R