We are so excited to have Nina Pierce here with us today for an interview. Nina Pierce sent in a review request to Mandy and I here at R&R for The Healer's Garden, and from there, we now have a wonderful interview! I hope that this gives you, the reader some insight on what a fabulous author and person Nina Pierce is!




R and R: Every author has a certain writing style, how they develop their characters, stories, and where they start. What's your "writing style?"

Nina Pierce: First I start with the "what if". What if a virus killed most of the male population? (The Healer's Garden) What if drugs were running up the Maine coast? (Love's Bounty) What if someone believed their best friend was murdered? (Blind Love)
Then I work out from there. How would the species continue? What would life look like 100 years down the road? How would women cope with the shrinking population? How would the government intervene? (The Healer's Garden)
Once I have a basic idea of the story from these questions I sit down to write. No outline other than what's in my head. And I type. And type some more. The characters begin to flesh themselves out. More questions pop up. Why can't they just inseminate women? How would the government work to control men?
And I write some more.
Usually the villain shows up and their personality starts to emerge. Why do they act the way they do? Did something in their past cause this behavior?
Now, my character's motivations emerge.
And all the while I write. And the story begins to take shape.
Since I write suspense, sometimes a really good idea comes to me in later chapters and I have to go back and layer in red herrings or other details. But usually I have the whole convoluted plot in my head and write the scenes to flesh out the details so when I finally reveal the twist it's surprising but not unbelievable.
I say I don't plot, but the reality is… it's in my head. I just don't write it down. It's what works for me. The whole process of letting the characters tell the story.


R and R: On your website, you have two titles listed: Tilling Passions and The Healer's Garden. It seems that most authors would stick to similar themes in their stories, but Tilling Passions is about three sisters and their individual steamy love stories. Whereas, The Healer's Garden is more futuristic set in a lesbian society. Why did you take what seems to be two very different routes?

Nina: Umm… because. No, just kidding.
In actuality I wrote two books under my real name, Kara Dunn. One is a straight romance that I'm still reworking and the other is a romantic suspense involving the FBI and a stalker. The market for those is really tough. So instead of spinning my wheels just marketing, I did some research and found erotica was a booming market.
I've always loved heat in my romances so turning it up a notch in my stories seemed like a reasonable progression of my writing. I'd always fantasized about having men at my disposal (what woman doesn't) and started out creating The Healer's Garden. It's set in the future because the story, the way it is written, couldn't happen today. There is a real suspense to this story with the villainess, Gabriella Bresilee. The woman is just a little "off" throughout the novel. But the reader doesn't find out until the very end what she is up to.
The Tilling Passions series is more how I write. Contemporary romantic suspense. I love the mystery part. Making the reader wonder what is up, taking them down the wrong path and then throwing in a twist at the end.
This series is about three sisters who own and operate a floral shop and landscaping business. Each story stands on its own, but there is the common thread of their sick father throughout the books. In the last story the whole mystery of his illness is resolved.
Though The Healer's Garden and Tilling Passions series don't seem related, all my books have a twist at the end that I hope the reader doesn't see coming.


R and R: Onto The Healer's Garden, specially! What was the most difficult part for you while writing The Healer's Garden, and for that matter, what was the most exciting?

Nina: The most difficult thing by far was the world building. I had to keep reminding myself it was the year 2172. Not too far in the future, but far enough that some advances would have been made. Mostly I focused on the toll to the human population and their need to survive.
The most exciting? The whole process of writing a novel is exciting for me. I love to keep finding new ways to twist the story. Again, I'd like to think I do the unexpected and surprise readers with revelations. Sometimes I make jokes and hope the reader sees the humor. At one point in The Healer's Garden, the hero, Brenimyn, is reading reverently from "The Book of Ancients". The scene is very deep. Later when the reader finds out what book he's actually reading… I hope they giggle. And no, I'm not going to tell you. Like I said, I like to surprise my readers.


R and R: What gave you the idea to create a female dominated society in The Healer's Garden? What about Jahara's character made her break away from that?

Nina: Actually, it wasn't the society that came first it was the initial "What if" about the men dying off. From there it seemed natural that women would seek each other out. Humans are not solitary beings. They have the need to be in groups and procreate. So the female dominated society was just a natural progression of a dying civilization.
And our history shows that when there is a minority, in this case, males, we tend to suppress them. This is what the government did. They castrated the unacceptable breeders and enslaved the males chosen for breeding. This creates an interesting class system.
What made Jahara break from this? The government's insistence that she take up residence at the procreation facility, the Garden of Serenity. It is here that she forms her first relationship with a man.
Jahara loves her partner, Merenith. But she acknowledges there is something missing in their relationship. She wants to be happy with this woman and plans on marrying her, but after she meets Brenimyn she realizes not all women were meant to be partnered with another woman. There is a fulfillment she experiences with Bren that she didn't have with Merenith. This opens the door for Jahara's change of heart. Her relationship with Merenith is more like sisters than lovers, but never having met a man prior to Bren, Jahara didn't know this.
As it turns out, there are many woman who also find happiness and lasting relationships with men.


R and R: Lastly, when you're not reading, writing, or doing laundry (from your website, what do you enjoy?

Nina: There's life outside writing? My husband thinks my fingers are permanently attached to my keyboard! LOL!
No, actually I do enjoy time with my family and being outside.
We have a lot of snow in northern Maine. I enjoy going out on snowmobiles with my husband. The trail system where I live is like a highway through the woods. It's just beautiful.
In the summer I spend a lot of time traveling to visit with family.
Other than that… I sleep!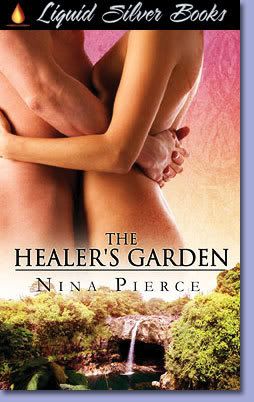 Blind Love: Book one of the Tilling Passions Series, coming soon to Liquid Silver Books.





Again, Thanks so much for being at Rogues and Romance today Nina Pierce.
For all of our readers out there, be sure to check out my review for The Healers Garden!

Happy Reading!
*Dee*