Resplendence Publishing has a knack for publishing great authors and Lyn Armstrong is no exception! The Last Celtic Witch is a fantastic way to get to know Lyn Armstrong as an author. Although it is a bit more lengthy than a novella, you'll find yourself reading The Last Celtic Witch all at once. :-)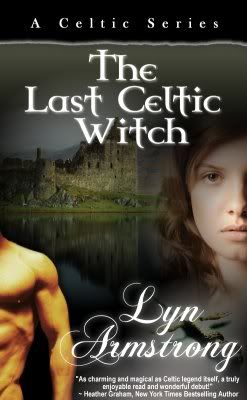 The Last Celtic Witch
Lyn Armstrong
Resplendence Publishing, LLC.
EBook
October 2007
115 pages
Historical romance

When Adela MacAye was but 12 years old, she had a vision of her mother being burnt at the stake, for "communicating with the devil." Adela's vision came true that day, and now, all these years later, they are still coming true. She's been running away ever since she saw her mother go up in flames. Now, however, Adela is having visions that will lead to her own death. Soon, Adela fears she will be thrown into the dungeons, and thus, sentenced to death by burning at the stake…

However, before Adela is sentenced to death, she has to carry on the MacAye blood. They have a sacred blood, and it must be passed down to Adela's child. She casts a spell, which will lead her to her child's father, and then she meets Sir Phillip Roberts. Will their encounter leave Adela with child, or are there much darker forces working against Adela's plan to give birth before her destiny is carried out?

Lyn Armstrong has done a fabulous job of infusing both history and paranormal aspects into The Last Celtic Witch, while all the while giving the reader a fantastic romantic twist. Adela is a strong woman, as is Sir Phillip a strong man, and their strengths makes them impeccable characters to fit hand in hand. Lyn Armstrong will pull you into her world with The Last Celtic Witch, and she will leave you wanting more.

*Denise Kivett*
Rogues and Romance



*Heat Rating:

3- Cupid's Ardor Arrow






Violence Rating:

*3- Steel Arrow



Official Blurb:
A painful death… a prophecy foretold.

Pursued by evil forces for her powers, recluse Adela MacAye foresees her own agonizing death. She must seek the chosen one to produce an heir and pass on her Celtic powers. To fail would be the end of good magick, plunging the world into darkness.

Conjuring a fertility spell she is led to a sensual chieftain who is betrothed to the sorceress that hunts her. Time is running out as fate and the future pursue her.

Plagued by enemies and undermined by sabotage, handsome Laird Phillip Roberts must save his clan from bloody feud by making an alliance through marriage... a marriage he does not want. After a night of white-hot sensual delights with the alluring witch, his heart commands he break the pledge of peace. With treachery around every corner, will he be too late to save... The Last Celtic Witch?






Happy Reading!
*Dee*