Destiny Blaine has written a short, though not so sweet, more erotic novella. :-) Happy Anniversary Sweet Dark Love is a great introduction to Destiny Blaine's work, and you'll be pleasently surprised with this one! Happy reading and enjoy the review!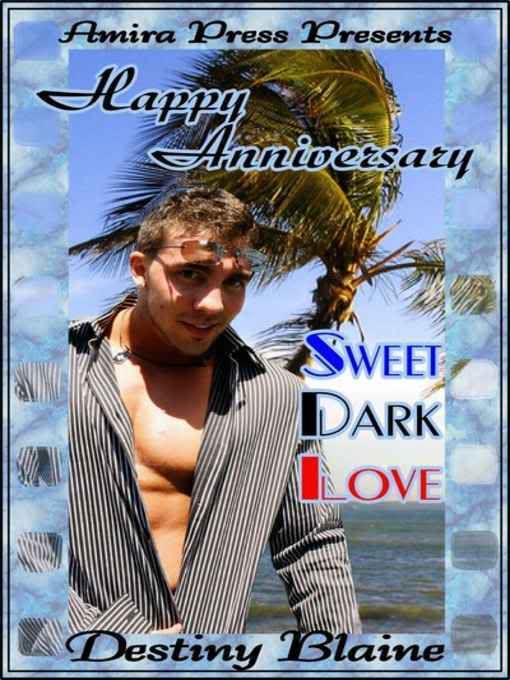 Happy Anniversary Sweet Dark Love
Destiny Blaine
Amira Press
July 2007
E-book
19 Pages
Erotic Romance

Carrie has been married to Steve, and it's their fifth wedding anniversary. She wishes he'd step up to the plate, and take control, make the plans, and just surprise her. But, on that special day, Carrie wakes up hoping Steve has done something, but much to her disappointment: no surprises. So, Carrie takes this anniversary into her own hands. Not only is she trying to make this fifth anniversary memorable, she's hoping that this night also spices up both of their lives, and sex lives in general…

BUT, as things heat up between Steve and Carrie, she finds herself wanting, and craving things she's never felt felt or wanted before. Then, after one sip of her husband's blood, Carrie just can't seem to get enough...

Destiny Blaine has written a sweetly erotic romance novella. Happy Anniversary Sweet Dark Love cuts to the chase quickly, without rushing. It's one of those "perfect novellas." Carrie has real frustrations that many women can either relate to or understand. The relationship between Carrie and Steve is also real: 2 working adults, newlyweds. The characters are witty and realistic. Destiny Blaine won't disappoint her fans with Happy Anniversary Sweet Dark Love and is sure to attract new fans to her writing!
-Denise Kivett
Rogues and Romance



Heat Rating: *5- Cupid's Whole Quiver!




Violence Rating: *1- Suction-Cup Arrow




Official Blurb:
They were bound by one common element... the need to feed. He couldn't survive without her or so he thought. She fought urges and withheld herself from him never realizing why until it was literally too late. She wants it all in her state of morality but when she is transformed, she takes everything. Follow a woman who is hell bent on indulging in an anniversary celebration and see what she'll do when one sip of her husband's blood doesn't quite quench a thirst spiraling out of control. Happy Anniversary Sweet Dark Love is a must-read story for paranormal fans!







Happy Reading!
*Dee*
R&R