Here's another fantastic read! Midnyte Dupree really started Lost Treasure off with a band, and just like I was, you'll find yourself drawn in deep to Lost Treasure.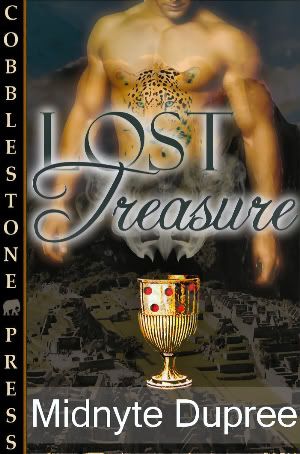 Lost Treasure
Midnyte Dupree
Cobblestone Press, LLC
2007
978-1-60088-182-4
E-book
51 Pages
Romance, Time-Travel

Elena Flabear has bonded with the man of her dreams…literally. Every few nights he visits her, to show her visions of ancient lands she must find and visit, as well as a golden, ruby-rimmed chalice. But, when she's not dreaming, she's working with her father in South America while they dig for artifacts. But as her father is on the verge of a magnificent discovery, he gets killed in the cave-in of an excavation site. Elena decides to close the site and go back home so that her father can be buried alongside her mother.

Elena then spends three long months in the States during her father's funeral. There she never once dreams of her "dream man," but as soon as she ventures back into South America, the dreams start. She knows she's supposed to be led to a new excavation site, but the clues he continues to give her through increasingly erotic dreams are vague to Elena, and she has no idea where to begin.

It's when she's at another dig site that she finds herself once again in the presence of the man from her dreams. But this is no erotic encounter or mysterious vision- it's a warning. She's in danger, and unless she finds the chalice, there's nothing he can do to protect her…

Even if you're not a fan of history or archaeology, you'll still love Lost Treasure. There's suspense, sadness, and of course…romance! Midnyte Dupree has crafted realistic characters, and even though this "dream man," is not necessarily real, the relationship between he and Elena definitely is. The storyline was thorough, and you'll want to read more by Midnyte Dupree.

Denise Kivett
Rogues and Romance

Heat Rating: *3- Cupid's Ardor Arrow




Violence Rating: *3- Steel Arrow



Official Blurb:
Elena always knew she would be an archaeologist, even before she understood what the word meant. She just wanted to follow in her father's footsteps and find treasures of her own. In her dreams as a child she could transport herself to exotic places and imagine the things she might find.

But when a mysterious man enters her dreams, he shows her places that call to her. As she gets older, this man introduces her to more than just the lost treasures of the earth, but another treasure filled with passion, lust and something that goes much deeper.





Happy Reading!
*Dee*
R&R