Well, here's another fantastic read for you from Stella and Audra Price! I've already reviewed

Gifts

, which is the third book in this series.

Wishbound

contains the first two books, so you get a real treat if you buy

Wishbound

! Which I highly recommend you do!






Wishbound




Stella and Audra Price


Phaze Publishing
ISBN 978-1-59426-766-6
October 2007
eBook
150 Pages
Paranormal Erotic Romance



WISHES


Janey Duvall is a tough-as-nails woman whose life is running her contract company. No, not contract as in record deals or home loans. Contract as in murder-for-hire. One of her small pleasures in life is irritating one of her boorish regular clients, otherwise known as the prince of hell. But when she refuses to budge on sending all of her assassins overseas to help him "take care" of a problem, he decides to call on Nick Marsh.

Nick Marsh is a devious but very sexy Djinn who takes on the assignment of convincing Janey to change her mind. He has license to convince her however he sees fit, and he plans on having a lot of fun being persuasive. The plan? Seduce her into doing anything he asks, and trick her into taking a deal: three wishes for 100 years as his consort. What does her becoming his consort have to do with his assignment? Nothing. It has to do with the fact he's a Djinn, and a very tricky one at that!



GLAMOUR


When one of Janey's top assasins fails to check in on an important assignment, Janey starts to wonder if her employee has gone rogue. The contract deadline is fast approaching, and Janey knows if she wants it done right, she has no choice but to go to Beijing herself. After entertaining some very motivating ideas involving himself and Janey in the foreign place, he decides to go along.

But once they get there, they learn the problem goes a little bit deeper than a rogue assassin, and it's going to take a little investigating to get to the bottom of it. Nick calls in for a little help from the demon prince, who sends a vampire named Mal to help. Even with the extra help, it's still going to be up to Nick to to place a glamour on Janey, allowing her to go undercover. Without knowing what they're truly dealing with here, he could be putting her at risk. It's going to take his magic and her skills as a trained assassin to get to the bottom of what's been going on in China. Without getting Janey killed.




Wishbound

is a delightful anthology that contains first two stories in the

Duvall, Inc.

series. Stella and Audra Price take characters that romance readers might normally think of as villains and turn them into the hero and heroine! The characters' first interaction may be a little shocking, but you quickly become completely fascinated with seeing how the "bad guys" interact within a romantic relationship. The authors do a fantastic job getting you to see the story from the characters perspective. You will love the characters not only in spite of, but BECAUSE of their lack of conscience! Now don't get me wrong, Janey and Nick aren't evil, and they do love each other, but to be fair, she kills people for a living and his favorite pastime is pissing her off. But the fact that Stella and Audra turn these into your favorite qualities of the characters just shows how much talent they have for writing! If you're looking for a fresh and fun read with plenty of hot sex and dry humor, look no further than

Wishbound

! Stella and Audra Price will rock your socks off!



-Mandy


Rogues and Romance




Heat Rating:

*4- Cupid's Aphrodisiac Arrow
(also, Glamour contains one f/f scene)






Violence Rating:

*3- Steel Arrow


*Buy Wishbound (paperback) from Phaze!*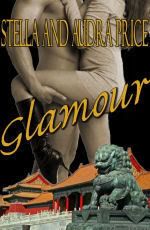 Buy the Wishes eBook from Phaze!
Buy the Glamour eBook from Phaze!



Visit Stella and Audra's Website!
Go check out Stella and Audra's Blog!
Read my review for Gifts (the next book in the series)
Happy Reading!
Mandy